3 Ways To Wear A Classic Blue Suit And Win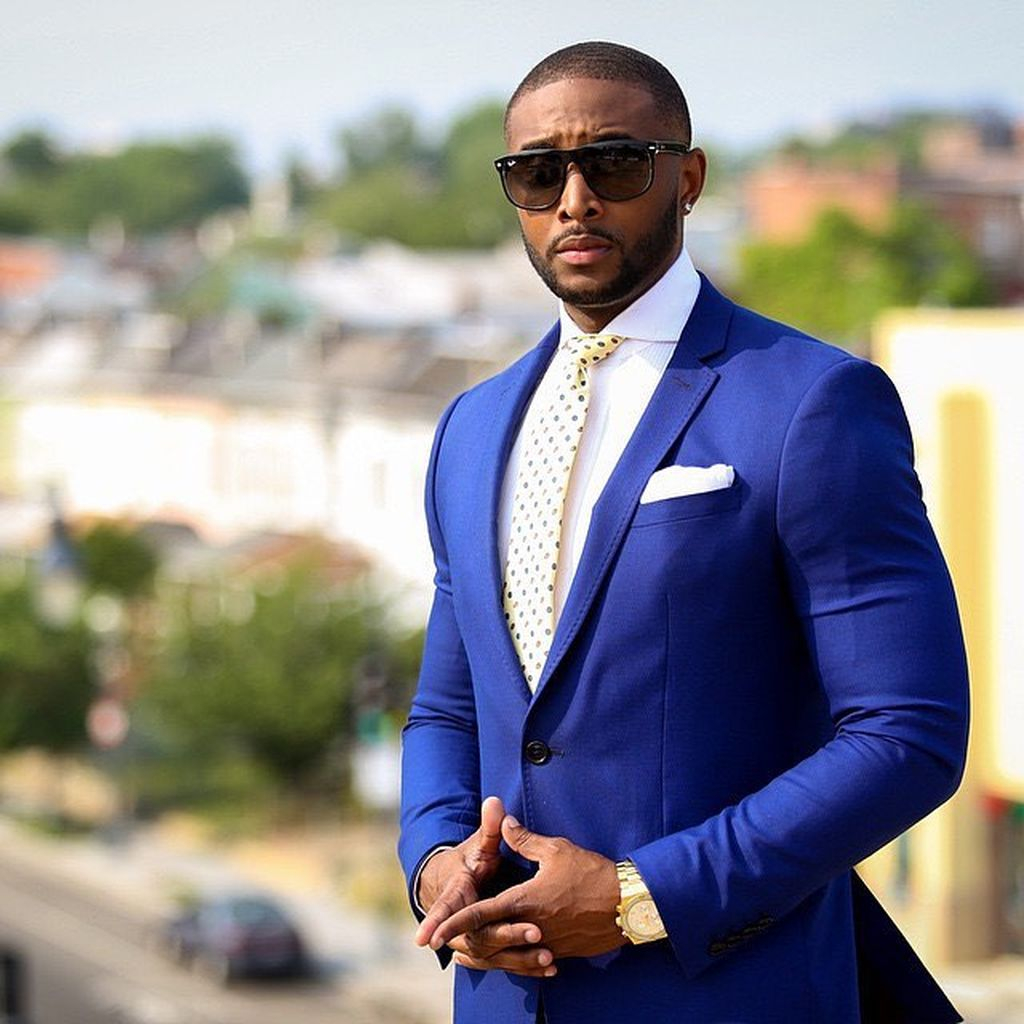 If you are thinking about adding a classic blue suit to your collection and actually wear it to work we have a few tips you should consider.
According to Dmarge blue is the new black. Versatile in summer, winter, corporate, or for pleasure. The spectrum ranges from bright Napoli blues to lighter hues and of course darker midnight and navy blue suits which can be worn with almost anything.
Here are 3 ways you can wear a classic blue suit and win:
1. Stick with a white shirt or a lighter color of blue for the shirt

A lighter shade of shirt will allow your suit to pop and get creative with your tie sticking with a solid color that blends well with your suit. According to Dmarge you want something bold but not too bright or it will throw everything off. The blue suit and white shirt combination is always a winner.
It's classic and is the one combination that requires the least amount of effort for a man. Ensure the shirt is well fitted and a touch of shirt cuff can always be seen. If you're not wearing a tie a larger collar is helpful to ensure it stays tucked underneath the blazer lapels at all times.
2.  Make sure your classic blue suit is fitted

We like a fitted suit anyway but with bold colors like blue need to carry a certain swag that oversized or undersized just does not encourage.
3. Do not be afraid to try the business casual version

On days when you want to feel less buttoned-up but you still want to rock a suit try more of a business casual look. A few months ago GQ gave some tips on how to rock the business casual option of a blue suit.
A teal-color polo shirt worn with a rich blue suit looks comfortable and luxurious in a way that the white shirt never will. Add luxe leather loafers instead of lace-up shoes—like Gucci's recently reworked horse-bit slip-on—and you're in serious swagger mode.
A dope watch and a cheeky printed pocket square will seal the deal on the whole thing, turning you into the guy who looks admirably well-appointed but not like a try-hard either.
This Limited Casio G-SHOCK MRGG1000B-1A4 Watch May Be Their Coolest Ever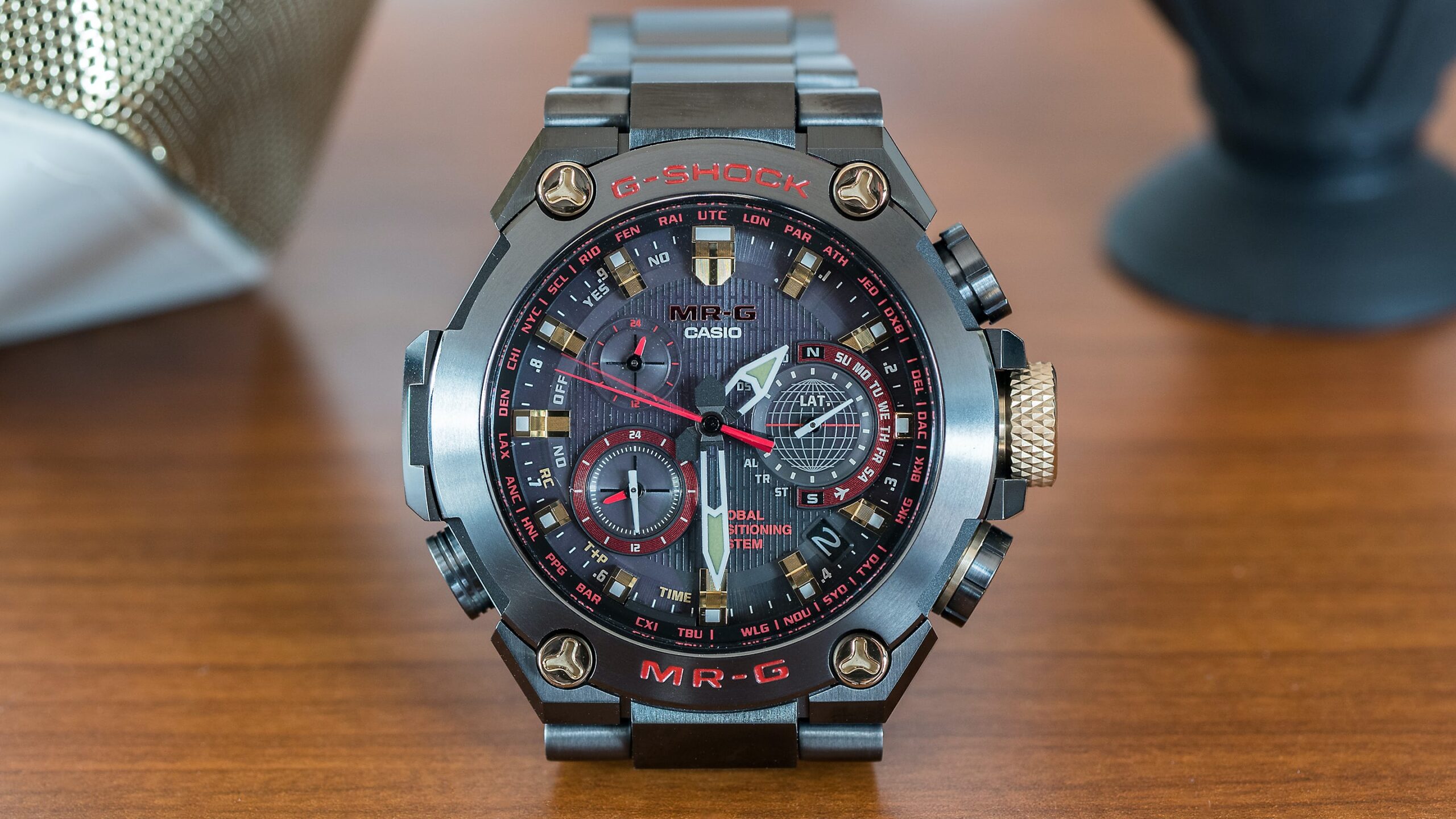 It's always exciting when a watch manufacturer decides to propel the brand to the next level with innovative technology, style and exceptional engineering.
The hardcore G-Shock and MR-G fans already know the MRG-Series for state-of-the-art timekeeping technology that is coupled with a level of craftsmanship that rivals its competitors.
Although this model has been out for a while, it still has a striking appearance; if you know your watches you only need one glance to know it comes from the G-Shock lineage.
Related: Would You Pay $1,000 for a Casio G-Shock?
In a previous post, we posed the question to our audience, "Would You Pay $1,000 For A Casio G-Shock?" We learned most watch aficionados would.
For those raven fans with a few extra bones at the end of the month, the high-end premium MR-G series has up'd their game with a Samurai-inspired edition of its MR-G model – the new MRGG1000B.
If you are unfamiliar with the MRG or "MR. G" series, this progressive line represent the top end of the of the G-Shock lineup.
It is meant to be a more mature and sophisticated version of the traditional G-Shock watches that you and I grew up with.
The MRG collection is assembled by hand and made in Japan, they known for their durability and ruggedness like the standard G-Shock range but also known for the thoroughly advanced technology and ingenuity that goes into each watch.
They are bigger than the typical G-Shock line but very comfortable to wear due to the titanium construction.
The titanium case and band undergo a special deep hardening treatment that renders the metal five times harder than regular titanium.
Diamond-like carbon coating and sapphire glass crystal provide outstanding scratch resistance and durability.
GPS Hybrid Wave Ceptor technology allows for the most accurate timekeeping, anywhere in the world.
The new MRG-G1000B-1A4 features crimson accents that evoke the red lacquered armor which signified the power and strength of elite samurai during the Warring States period of old Japan.
Crimson accents are applied to the bezel and dial logos, second hand, and inset dial hands, adding to the solid and rugged look of the MR-G.
The large side buttons, crown, and front screws are chiseled from metal and finished with gold ion plating, highlighting the black and red theme and lending a refined look to the watch.
The MRG-G1000B-1A4 comes with a timekeeping system that receives both GPS satellite signals and radio wave time-calibration signals, and features Dual Dial World Time, which displays times in two cities simultaneously.
While it looks cool and the technology behind it is impressive, some still struggle with the price. Granted, you probably are a huge G-shock fan to consider this watch.
However, if you are a fan the MRG-G1000B-1A4, you might also consider the limited edition luxury MR-G GPS Hybrid Gold Hammer Tone as well.
The Hammer Tone edition are decorated using the tsuiki hammering technique as applied by master craftsman Bihou Asano at $6200.00.
I applaud Casio's timepiece evolution as they have made some spectacular watches of the years. I am also curious to see where Casio continues to take the brand and the MR-G collection.
Dimensions: 54.7 mm × 49.8 mm × 16.9 mm / Weight: 131 g
Features:
• GPS Hybrid Radio-Controlled time sync
• Sapphire Glass
• 200M Water Resistant
Specifications:
• Date and day of the week display
• Full Auto Calendar
• LED Light (Super Illuminator, with afterglow function)
• Shock Resistant
• 200m Water Resistant
• GPS HYPRID Wave Ceptor
• Anti-reflective coating sapphire glass
• DLC treatment + deep curing process
• Screw lock crown
If you would like to take a look at a cheaper version, click here.
The Air Jordan 3 "Varsity Royal" Gets An October Release Date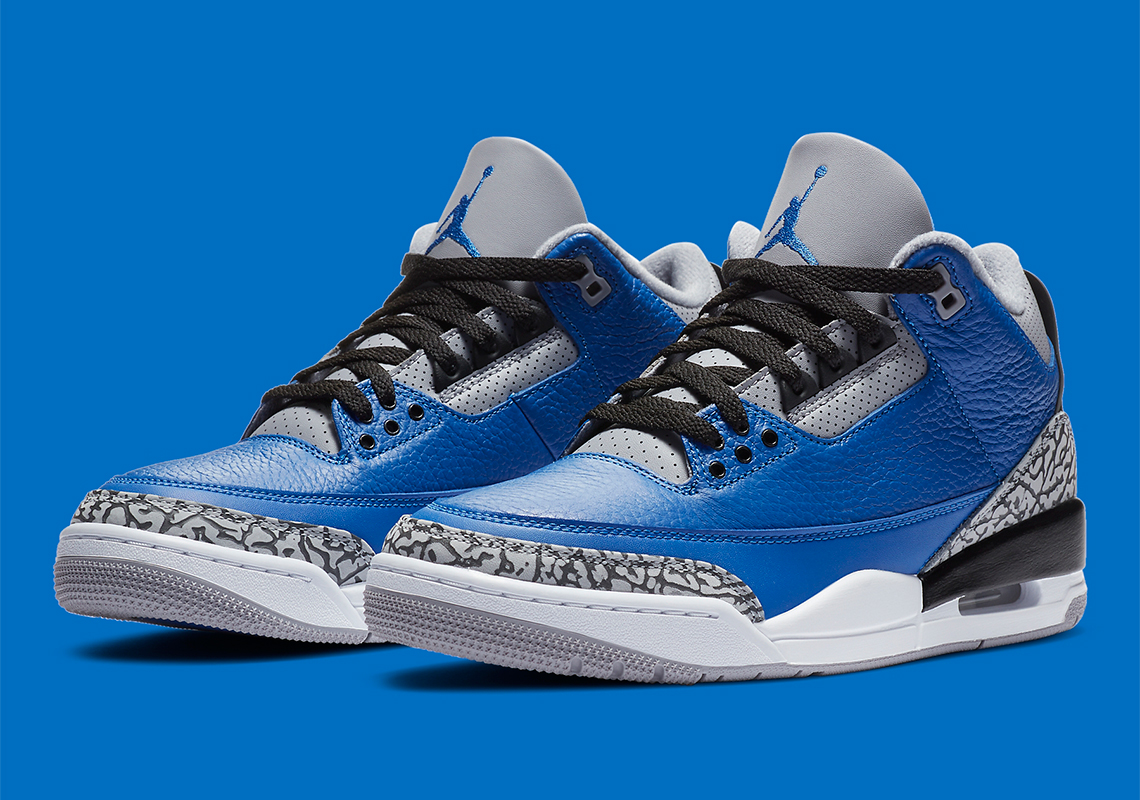 According to sources, the Air Jordan 3 "Varsity Royal" may not drop in the US until October. That's too bad because we are looking forward to the new Varsity Royal AJ3's this summer.
These kicks feature prominent tumbled leather uppers and elephant print overlays on the toe cap and heel with matching blue stitched embroidery on the tongue. To finish it off with the iconic Jumpman logo on the heel tab.
Although we expect a U.S. release in October, you can still keep it locked to MrCottontop for the latest in sneaker news and release dates for your favorite kicks.
Air Jordan 3 Retro "Varsity Royal"
Release Date: October 2020
Color: Varsity Royal/Varsity Royal-Cement Grey
Style #: CT8532-400
Price: $190
Lewis Hamilton Reveals Unique IWC Watch for Black Lives Matter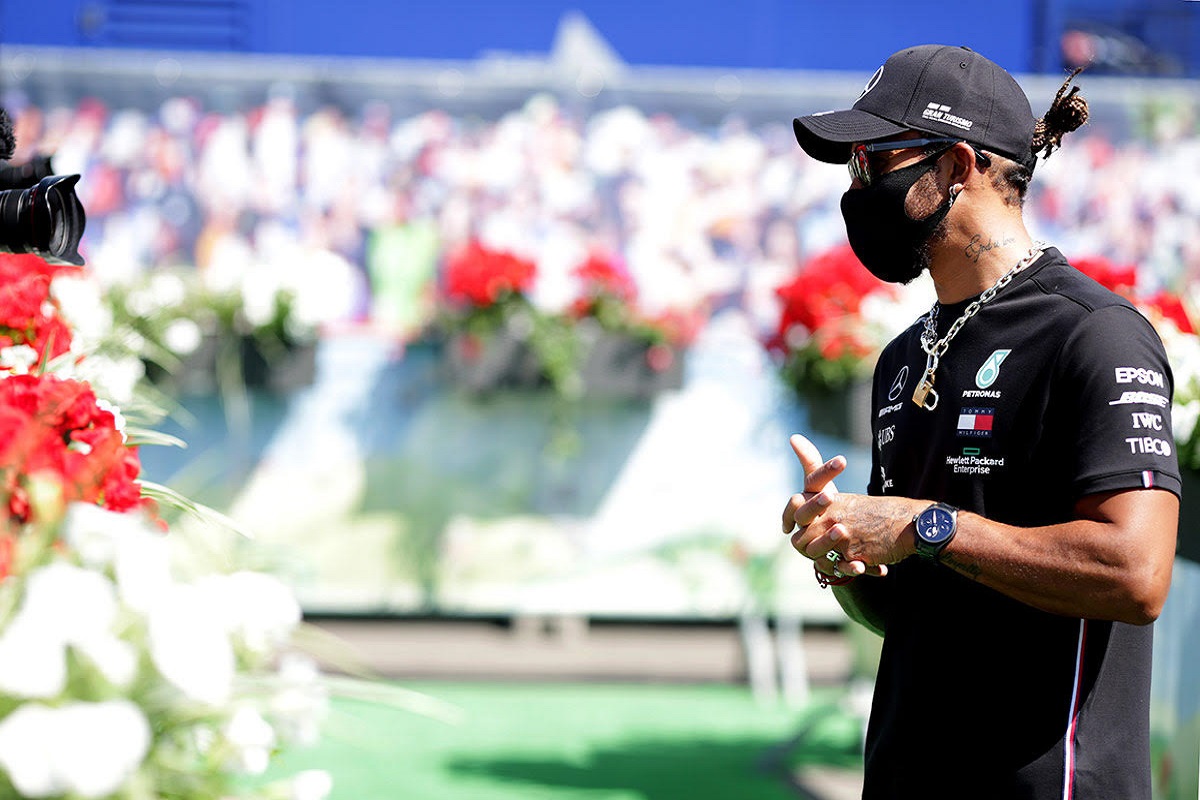 Formula One star Lewis Hamilton has just debuted a 'one of a kind' IWC watch. But he isn't showing the watch for endorsement or to brag; he's doing it to support the Black Lives Matter movement.
Lewis Hamilton is the only black world champion in F1 history, not to mention the all-time record holder for most pole positions, most points in a single season, most career points, most grand slams, and more.
He has a stellar career that most Formula One drivers can only dream of, let alone regular folk.
Despite all these achievements, he has been subjected to racist abuse. And it started when he was a child.
Since attaining his status as the only black driver in Formula One, he has used his platform to break down racial barriers in the sport. Recently, he called out the Formula One world for their silence on the Black Lives Matter movement.
And when the F1 season resumed, he chose to kneel before the start of the Austrian Grand Prix; something which several other drivers did not bother to do.
That's not all Hamilton's done to raise awareness of the racial injustices in this world. On his Instagram story, England's most successful F1 driver shared a close-up image of his one of a kind IWC Big Pilot Perpetual Calendar, with a clear reference to the Black Lives Matter movement.
Big Pilot watches are distinct, even when compared to other luxury watches. And Hamilton's one is unique even among its own kind.
The watch is pure black, from the bracelet to the dial and the ceramic case; and it makes use of IWC's patented Ceratanium compound.
This exclusive watch additionally comes loaded with a perpetual moon phase for both the Southern and Northern hemispheres. It also has seven-day power reserve displays that show the day, date, month, and year in four digits.
The timepiece's perpetual calendar further stands out by automatically recognizing the various lengths of each month, and it even takes leap years into account. So, there's no need to make any adjustments until the start of the next century.
In terms of accuracy, the watch's moon phase is even more distinctive. Its future owners—maybe Hamilton's descendants or a watch collector—will only need to adjust the watch's moon phase by one day for every 577 and a half years. If that doesn't make this watch future-proof, nothing will.
It's no stretch to say that Hamilton's IWC Big Pilot Perpetual Calendar is one of the most unique watches in the world.
The fact that it's being represented for the sake of the Black Lives Matter movement only makes it stand out more.
Its functionality makes it an asset to Hamilton wherever he goes for his races, and its distinguishable looks make it stand out whenever he wears it. Because the watch has so many factors lending to its uniqueness, Hamilton might not even be able to sell it if he desires.
Lewis Hamilton has shown exceptional courage to overcome racism, both in his past and present. And to become a six-time Formula One World Champion—just one away from the legendary Michael Schumacher—while facing obstacles that no other F1 driver has, just shows how strong his resolve is.
Lewis Hamilton is one of the biggest sports icons today. There's no doubt that he will continue being a voice for the voiceless.
He has a massive following, his peers respect him—even if the respect is begrudging from some of them—and he's one of the most outstanding sportspersons today. The IWC Watch for Black Lives Matter is just one of the many ways he's trying to bring attention to injustices around the world.
Lewis Hamilton Campaign Pictures
Read this post featuring the 5 best activity watches or men here.