Rare LeBron Trading Card Sells For $2.4 Million Instead of Record $6.6 Million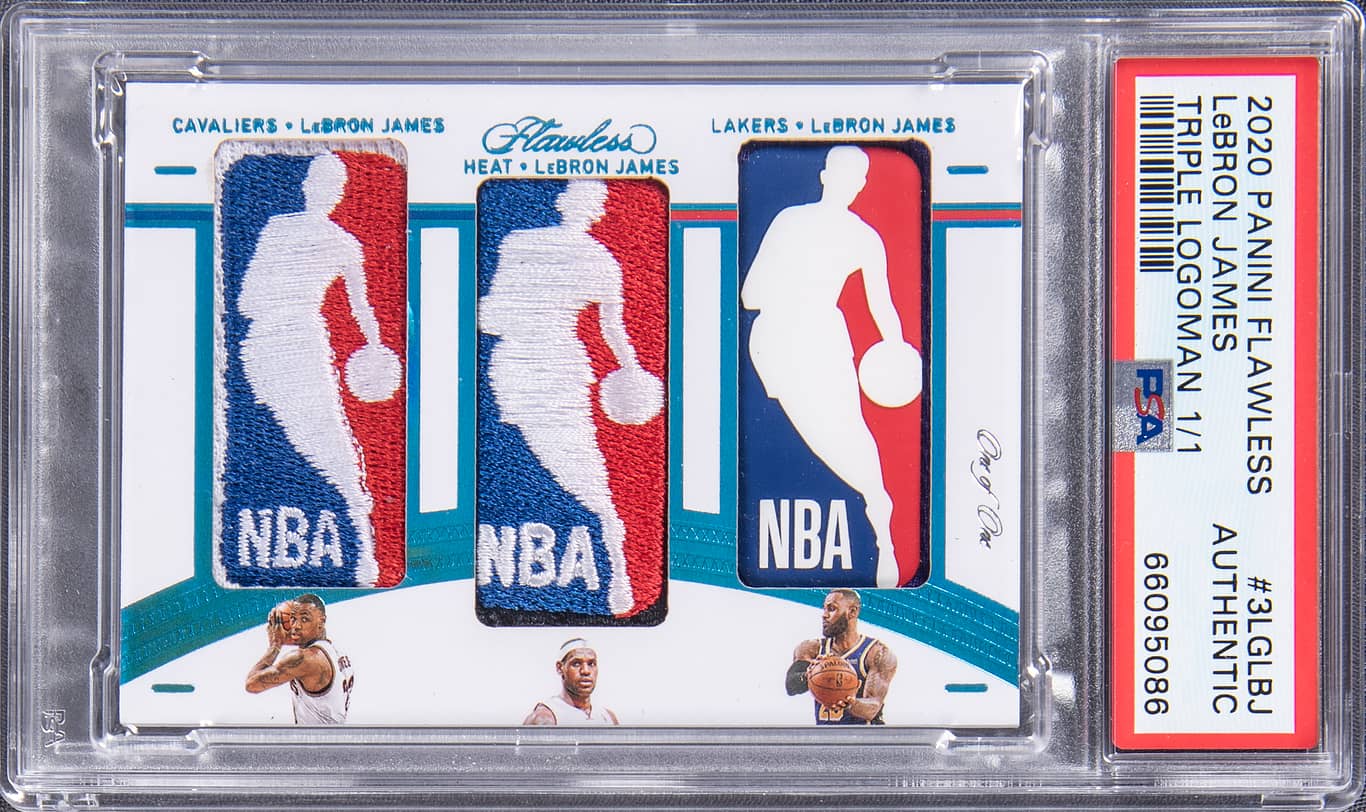 LeBron is already the MVP when it comes to basketball.
So, it should not be surprising that his trading cards also go for historical sums.
But in this case, the trading card sold for less than expected.
The LeBron James Triple Logoman was expected to sell at a world-record $6.6 million or even higher.
At least, this is what publications expected.
And, to be fair, it would have surprised no one if the trading card sold at that figure.
After all, the last LeBron trading card sold for $5.2 million; not a figure to sneeze at.
How They Estimated The Figure
The LeBron James Triple Logoman trading card is a distinct one-off card.
It is the only card with authentic game-used patches from every NBA team LeBron has played for:
Los Angeles Lakers
Miami Heat
Cleveland Cavaliers
Bidding also started at $500,000, a reasonable sum for a LeBron trading card but an astronomical figure for most other sportspersons.
After all, one of the basketballer's cards from his rookie 2003-2004 season sold for a staggering $5.2 million in 2021.
Before that, a similar card sold for $1.8 million in 2020.
Based on this trajectory, the latest trading card should have broken the world-record fee.
But who holds the world record?
The Rival
The record-holder is a Honus Wagner T206 baseball card.
Around 50 Honus Wagner cards exist, though this didn't seem to matter to the bidders last year.
The card sold for a world-record $6.6 million fee, a record it still holds.
Better Luck Next Time?
LeBron is among the world's most recognizable athletes.
And his current billionaire status will only help increase the value of any future trading cards.
After all, you don't see many billionaire athletes out there.
Time will tell, of course, but it's almost certain that one of his trading cards will break that record in the next couple of years.
The Weeknd and Binance Start World's First 'Crypto-Powered' World Tour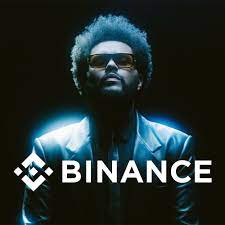 Cryptocurrency might be crashing and turning princes back into paupers, but The Weeknd is having none of that.
He recently teamed up with Binance, the world's biggest cryptocurrency exchange, for his latest tour.
A Historic Partnership
Binance is the official After Hours Til Dawn tour sponsor, and it's already made history by becoming the first global concert using Web3.
Binance is also working with HXOUSE, The Weeknd's creative incubator, to craft exclusive NFTs and merchandise for this tour.
The Weeknd loves this partnership because Binance cares about inclusion and the community.
He also believes that crypto has unlimited possibilities, and we are just at the starting point.
The partnership also benefits the musician's XO Humanitarian Fund; this is a fund that works with the United Nations World Food Program.
Binance has funded the fund with $2 million, and 5% of sales from NFTs sold during the tour.
And the singer wants the fund to offer life-saving support to those on the verge of starvation.
In fact, when the fund launched in March, The Weeknd donated $500,000 and promised to donate $1 for every ticket he sold in North America.
The World Food Program also refused to be left behind, donating a further $1 million.
Pushing Through A Slump
It's no secret that billions of dollars have been lost in the crypto market.
But it's not the end of the market, according to the Hedge Trust CEO, Eric Zhou.
Even though the crypto market has taken massive hits, collaborations like this show how cutting-edge Web3 might be given a chance.
The partnership has already shown innovation through NFT tickets, merchandise, metaverse projects, and more.
Zhou added that for as long as crypto remains viable and accepted by countries, he is optimistic about the future and will ensure his company remains at the forefront.
The Weeknd: Pushing Boundaries
The Weeknd is also optimistic about the future of crypto if this partnership is an indicator.
Time will tell if crypto returns to its former highs, but at least we are getting a kickass Weeknd tour out of it.
LeBron James Family Foundation To Open Multimillion-Dollar Ohio Medical Center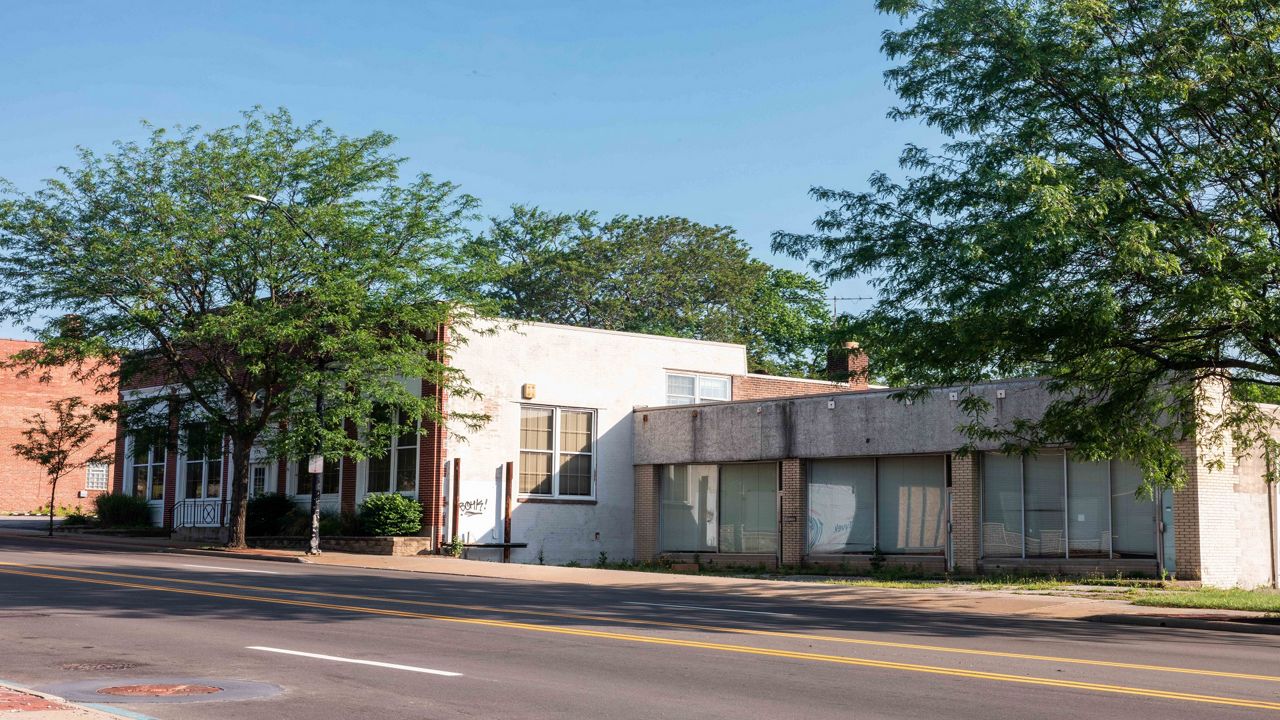 LeBron James loves giving back, and we love him for that.
Through the LeBron James Family Foundation, he announced opening the I Promise HealthQuarters.
A Healthcare Center for the Community
This is a multimillion-dollar facility in Ohio that offers a range of medical services like:
Lab services
Dental
Optometry
Pharmaceutical
Mental health
I Promise HealthQuarters will open next year and close to other I Promise facilities like the I Promise Village and I Promise School.
The medical center has teamed up with local health providers who include:
Peg's Foundation
Coleman Health Services
AxessPointe
Together, they plan to give local residents affordable healthcare.
Coming Together
According to LeBron, it takes a whole village to raise a child the right way, and that's what he's trying to do through his Foundation.
And the LeBron James Family Foundation executive director, Michele Campbell, revealed that their work will keep expanding in ways they never thought possible.
Accessing affordable healthcare is essential for low-income families, and this need was heightened thanks to Covid.
So, the Foundation brought the community together to create a roof with all the experts.
Naturally, this would not be possible without help from like-minded partners who also wanted to help the community.
In 2018, I Promise School was launched courtesy of the LeBron James Family Foundation and Akron Public Schools.
Its mission was, and remains, to help the community's most at-risk students.
This is a mission LeBron takes personally because he visited the students himself on the last day of school.
LeBron James: A Grounded Philanthropist
LeBron recently became a billionaire.
But he's not letting that get to his head.
Instead, he is following basketball legend Michael Jordan's example.
Last year, Jordan donated $10 million for new and affordable medical clinics.
With stars helping out the community personally, the next generation is in safe hands.
Try These 7 Dwayne Johnson-Approved Tips to Building Life-Changing Habits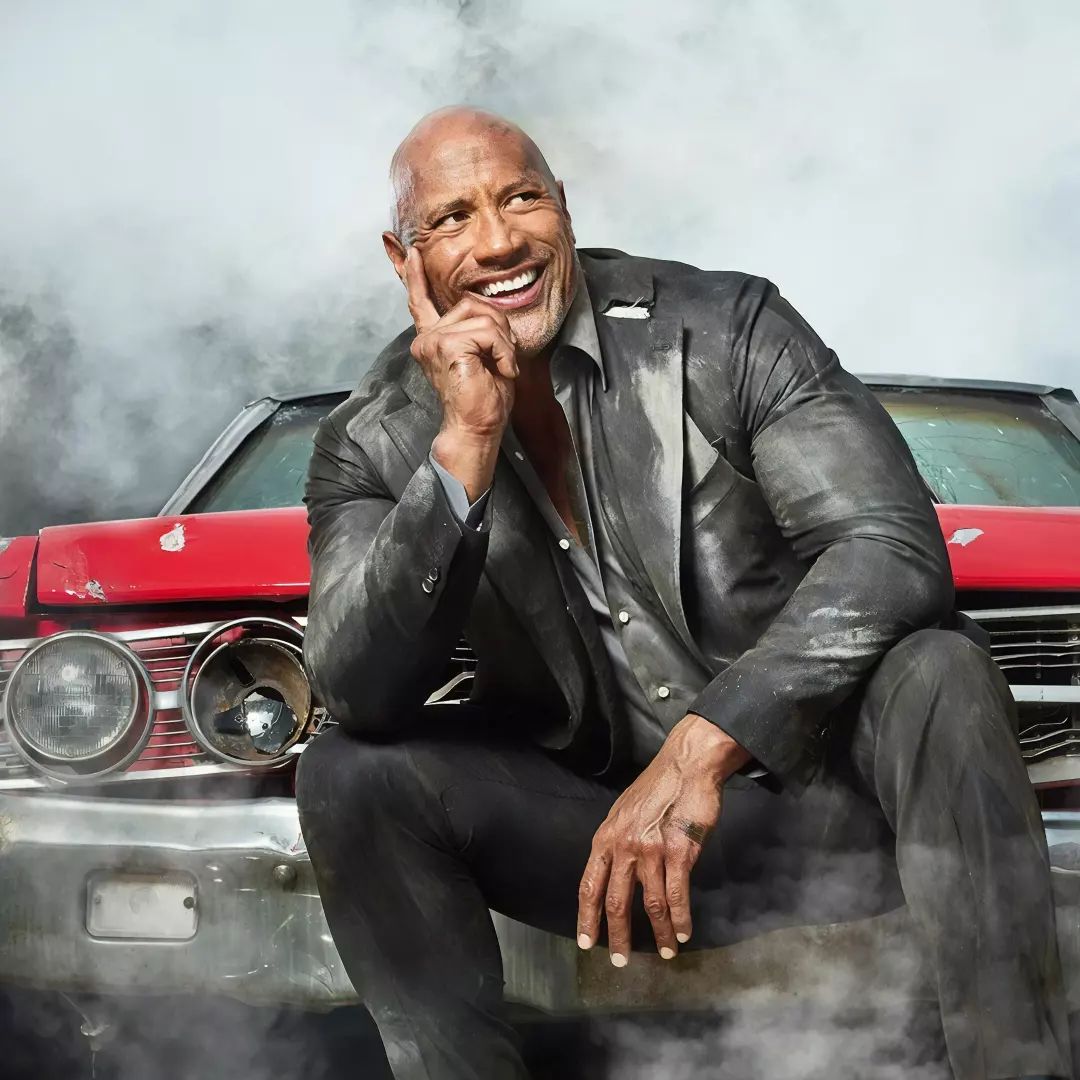 Dwayne Johnson is rated one of the hardest-working actors in Hollywood, which is why he's among the highest-paid actors. Dude gets three to five hours of sleep each night. Three.
He's also one of the most inspiring people in the world. He has over 300million followers on Instagram, where he doesn't shy away from sharing an inspo post now and again – like, say, the perks of a late-night gym sesh, why you need to work hard in life, or the benefits of a 7,000-calorie cheat meal.
No matter what, The Rock is a 21st Century icon. That's why we decided to share the seven most important lessons he's taught us over time.
Seven, because that's the amount of money he had when he was kicked out of the Canadian Football League and had to start over. Seven, because that's the mane of his firm –SevenBuck Productions.
Work Like Your Life Depends on It Because It Does
Success isn't always about greatness. It's about consistency. Consistent hard work equals success – Dwayne Johnson
As a child, Dwayne witnessed his dad wake up at 5 am every day. He'd have his cup of coffee and then hit the gym. And when other kids played at the playground, Dwayne accompanied his dad to the gym – hardcore gyms. His first interaction with weight rooms was as a pre-teen.
However, this was a crucial bonding time for them, and it was then that he learned there's no substitute for hard work.
His dad and other wrestlers would train for hours every morning, like all the top bodybuilding giants – Frank Zane, Albert Beckles, and Arnold Schwarzenegger. It was all they knew, and it was all Dwayne knew. And it worked.
Create A Solid Morning Routine
Dwayne starts his day at 3.30 am. He begins with a light cardio workout –a quick run or some weights (when he knows he'll have a busy day). After working out, he has his morning meal, 'The Power Breakfast,' and starts his day.
You, too, can create your morning routine. Wake up early, go for a run, do some light intensity cardio, or try meditation – whatever gets you supercharged. Kickstarting your day with a defined habit helps you have a positive and proactive attitude, allowing you to accomplish your day's tasks on time.
It also helps alleviate stress, minimize mental fatigue, and boosts your overall productivity, clearing the path for a successful future.
Appreciate More
It's easy to get caught up in the bliss of success and forget how fortunate you are. Practicing gratitude is an ideal way of creating a positive environment, reducing stress and anxiety, and enhancing your overall health.
How can you cultivate this habit? It's simple. Like Johnson, you can pen down a gratitude letter to your supporters or do some volunteer work. Dwayne has a long list of the charities he supports and volunteers his time for, including, The Make-A-Wish Foundation, I Have a Dream Foundation, Parkinson Society Maritime Region, Red Cross, Starlight Children's Foundation, and Until There's A Cure.
It can also be as simple as reminding yourself of one thing you're grateful for every day before going to sleep. The more you appreciate the small wins, the happier you'll be.
Exercise – It's Good For Your Overall Existence
Besides boosting physical health, working out enhances creativity and improves cognitive skills. It's also the best way to build endurance and get pumped up for work.
If you're not convinced, just ask Dwayne. The guy has a solid workout routine that helps keep him grounded and ready for anything thrown at him. He's currently doing a #BlackAdam workout, which involves leg curls, compound pressing movements, chain lunges, shark pit squats, and barbell squats.
The training helps improve blood volume, detail, and conditioning, which means it acts as a natural anti-depressant. Still need more reasons for hitting the HIITs and strength training workouts?
Just scroll through Dwayne's IG page – you'll get the inspiration you need.
Eat Right
Consuming healthy meals boosts your physical health and helps you save on $$$, bolsters your energy levels, and amps up your mood – you become a healthier, leaner, stronger, and happier person, which equals a better and successful life.
Dwayne subscribes to a 'Power' meal plan, consisting primarily of high-protein chicken, salmon, and buffalo, with light carbs like rice and sweet potatoes. He also loves his greens and then enjoys a delicious cheeseburger on the weekends as his cheat meal.
He mainly relies on natural protein sources, but he uses a casein protein shake now and then to improve his workout recovery.
Invest in Self-Care
Taking some time off to unwind does wonders for your mental health, mood, and self-esteem – and Dwayne Johnson knows this.
His preferred mode of relaxation? Fish farming. The Hawaiian-born icon spends his self-care time at his 'happy place' – his sprawling farm in Charlottesville. Dwayne has been raising his fish for over a decade now – trout, carp, sunfish, and more. And he works closely with a team of biologists to ensure a thriving ecosystem for his fish to live in.
When he's not fishing, he loves spending time with his babies. This enables him to decompress and enjoy time off from all the noise.
You, too, can develop your decompression routine, and it doesn't have to involve fish – we all can't rear fish. So, try listening to music, hiking, cooking with your family, or learning a new skill. Whatever rocks your boat, do it!
Don't Give Up
Dwayne always says failure is a virtue. So, don't throw in the towel just yet. When the road gets brutal, get tougher, too. Challenges are meant to shape you and mold you. Were it not for the thousands of failures Dwayne experienced, no one would know The Rock today.
So, don't be afraid to fall. That tiny or massive failure can help pave the path to becoming the next world icon.