These Are the New-Age Rules of Applying Cologne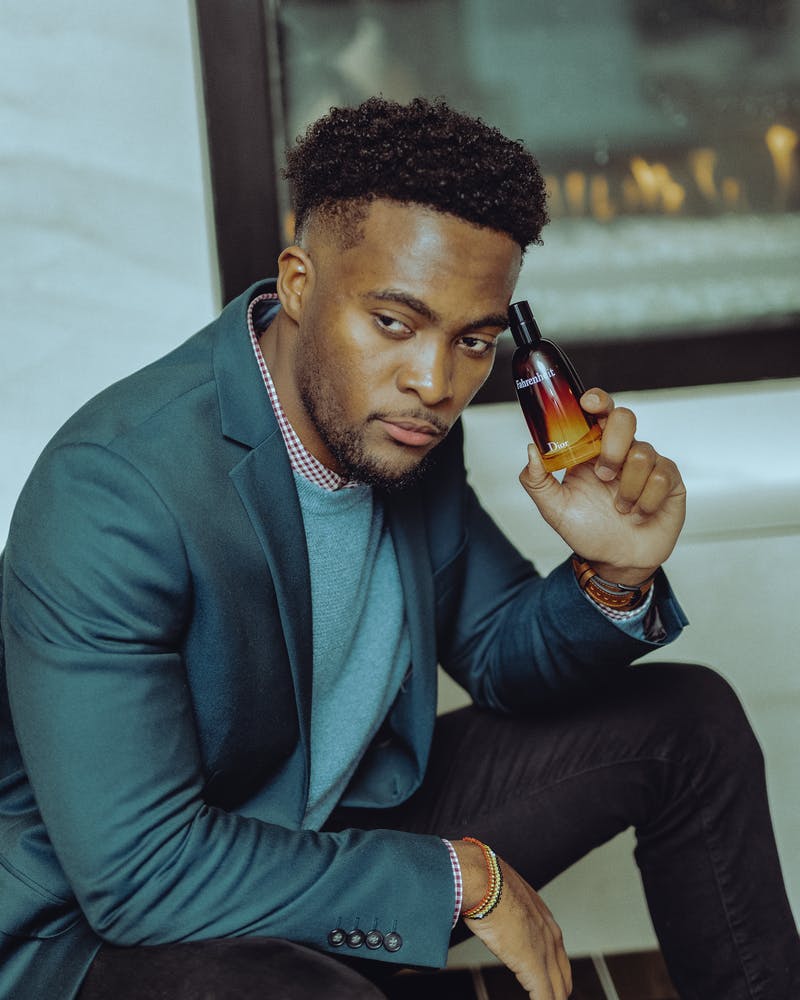 Ah, the allure of a good mood-boosting signature scent. Isn't it magical to enter a room, the smell of bergamot, sandalwood, or white musk announcing your arrival? Which, I'll admit, can be challenging to achieve if you don't know the basic rules of applying cologne so it can last all day – and linger long enough to woo your crush.
Well, if you find yourself applying cologne only for it to fade away right after you leave your house or practically have no idea how you should spritz your Villain EDP, below are the ten new-age rules on applying cologne correctly – based on tried and true techniques.
Wear What You Like
Like everything in life, wear the cologne you love and feel most confident. Never select a scent simply because your lady-magnet of an uncle thinks it's what's best for you. His personal aesthetic or taste might not match yours – so be authentically you!
That being said, there are again caveats for this. Like your clothes, you wouldn't wear your tux to the gym. And conversely, you wouldn't wear your gym shorts to an office meeting.
While it might so clear-cut, a mismatch in cologne choice can be, at times, noticeable in terms of what's appropriate for a specific setting. Which leads us to the next rule…
Choose Cologne According to the Occasion & Setting
Just like different foods or genres of music, various fragrances can invoke different emotions in the people who smell them. Semi-oriental, tropical notes scream summertime, while deep, sensual woodsy notes exude hot chocolate by the firepit vibes.
And, for occasions where you want to make a statement, like at your 40th birthday party, bold scents with oud or tobacco would be a perfect choice. Subdued scent notes such as leather and patchouli are more suited for corporate and office settings.
Understanding the appropriate cologne for every occasion will help you choose the perfect fragrance to make an impact – it can also guide you in choosing your signature scent.
Stick to Applying Cologne Directly on Skin
Your skin acts as the perfect canvas for your favorite fragrance. For cologne to truly unravel in the most captivating way, it needs a proper medium as an anchor – enter the skin.
The lipophilic properties of your skin make it the ideal medium for perfume oils to attach to. Moreover, the warmth of the skin triggers the unraveling process, and the fragrance is free to truly express itself.
Harness the Power of Moisturizer
It's a well-known fact in the fragrance universe that dry skin doesn't favor scent. That's because moisture is required for the scent to flourish.
For the most seamless scent-to-skin adhesion, you need to slap on a hydrating moisturizer, and your cologne will work its magic.
Therefore, next time you step out of the shower, lather on your favorite moisturizer or sunscreen, and then spritz that bottle of Dior Sauvage so you can smell really, really good all day long.
Dab – Don't Rub
Espouse these three words and then use them when applying cologne all year long – dab, dab, dab.
While we've all fallen for the rubbing temptation at one point in time, rubbing cologne on gets rid of scent quicker than you can say Jack Robinson – no wonder Cate, the scent-loving receptionist, never compliments you.
It heats up your skin, producing natural enzymes that alter the course of your fragrance. So, dab and allow the scent to sink into your skin for an alluring all-day scent. Cate will definitely notice!
Focus on the Pulse Points
If you want your scent to last all day, you need to hit all the right spots – pulse points. This means choosing the areas of the body that are naturally warm and moist, like the sides of your neck, chest, wrists, elbows, and the back of the knees.
These areas act as natural diffusers, allowing others to truly enjoy your cologne. If not, the top notes fly away too quickly, leaving you with a heady, stiff, or lifeless scent.
And remember dab. Don't rub.
Keep It Light
In the fragrance zeitgeist, less is more. You don't need ten spritzes to smell like a champion. One or two sprays on each side of your neck and chest will do. Overdoing leads to ricking, making you appear inexperienced in the cologne department.
Don't Be Afraid to Layer Scents
Channel your inner Chris Collins by layering fragrances. Spritz a few scent blotters with various oils and fragrances and smell them simultaneously to see if they effortlessly marry.
When you find the combination you love, try them on moisturized skin. Sometimes your skin oils can alter how a fragrance smells, so it's always good to experiment before rocking it officially.
As a rule, spray the most potent fragrance first and then top it with a lighter option so that the first scent doesn't overpower the second.
Pro Tip: Single note scents marry well with powdery musk fragrances, while big fragrances work seamlessly with single note woodsy or musky scents.
Go for the EDPs
Chances are you've seen one of these labels slapped on your favorite fragrance bottle –Eau de toilette (EDT), Eau de parfum (EDP), and Eau de cologne (EDC).
EDPs contain a high concentration of perfume oil (25%), making them stronger and longer-lasting. EDTs are often lighter and airier with 15% of oil. EDCs are more refreshing scents with the lowest fragrance oil percentage of 8%.
Apply on Your Clothes
Don't just stick to applying cologne on your body – spray it all over your attire too. Clothing fabric holds in scents for a long time, even longer than your skin. That's why that Christmas sweater still smells like your Creed Aventus, and your leather jacket smells like last week's perfume.
I hope these simple tips will save you some dollars in the long run and ensure a scent-filled year. After all, cologne isn't cheap and cheerful. Why waste it?
Every Guy Needs These 8 Incredible Black-Owned Grooming Products in Their Arsenal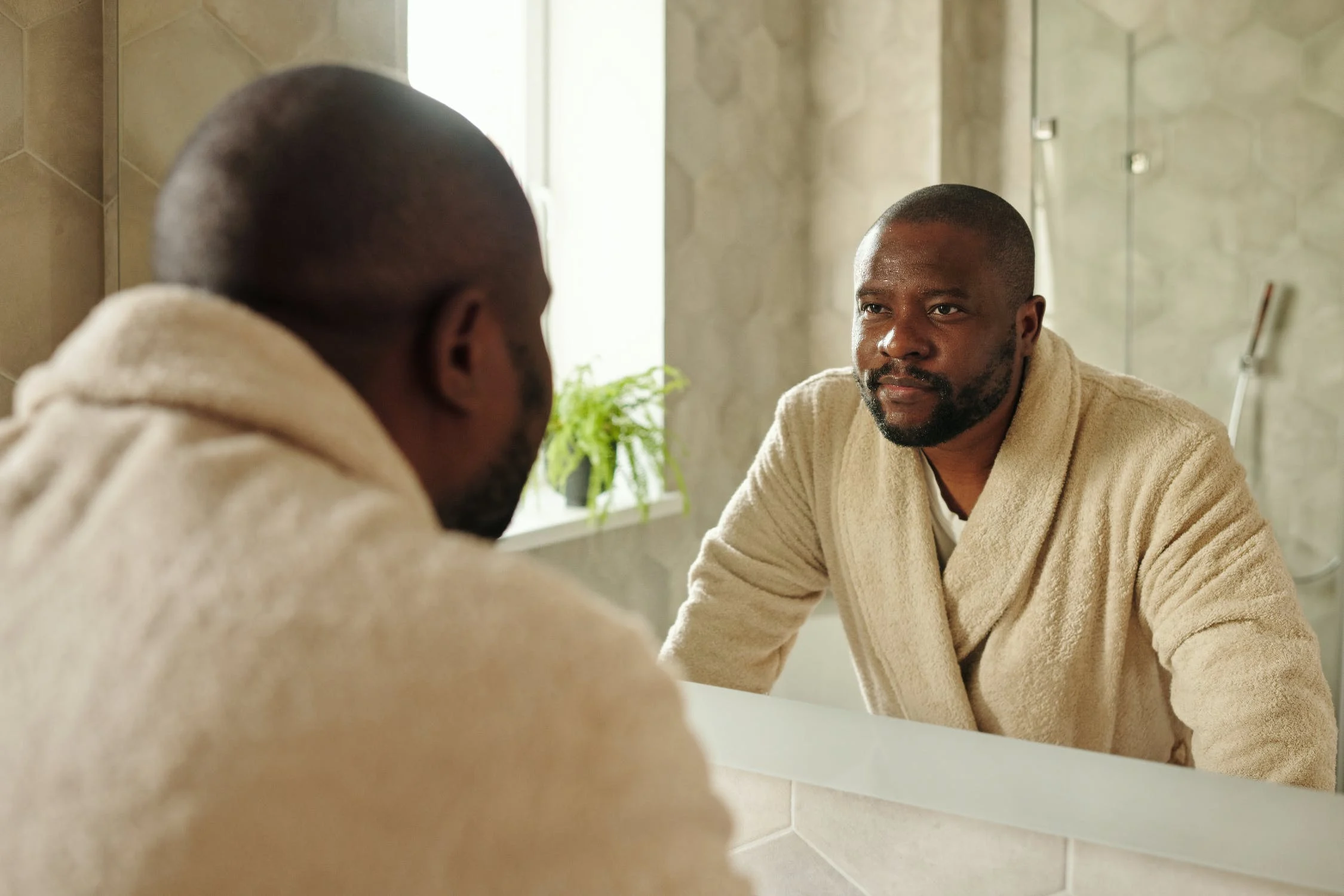 When the self-care subject comes up, men's grooming typically isn't addressed. Skincare for women dominates the culture, while men face legions of gender-based stigmas.
Well, at the risk of sounding like a men's rights activist, self-care and grooming products are just as indispensable to men as they are to women, which is why we need to highlight the brands that focus on serving this demographic –especially Black men.
In any case, Black men's skin concerns tend to differ from their male counterparts for a myriad of reasons – overactive oil glands, hormonal peculiarities, hair texture, lifestyles, and the most common issue in black skin, hyperpigmentation.
Because of this, and just in case you need a little boost while on the hunt for dark skin-friendly grooming products, below are some globally acclaimed Black-owned grooming products that you should stock up on ASAP! Thank me later.
Scotch Porter Smoothing Beard Serum, $19.99
Want in on a secret? I can't believe I'm actually about to put this down in writing, but – this beard serum is the real deal. Formulated with dry, coarse stubbles in mind, the avocado and jojoba seed oils in this serum nourish your beard with essential fats and vitamins that lock in moisture, leaving your imperial smooth, shiny, and frizz-free.
Pro Tip: Combine with your favorite beard conditioner and balm to style and knock it off the park.
Chloe + Chad Lemongrass Body Wash, $28
The online skincare authority lauds this pick from Chloe + Chad for its mood-boosting benefits. Loaded with refreshing lemongrass essential oil, this body wash makes for the perfect everyday pick-me-up. It literally helps you start and end the day in an empire state of mind.
It also incorporates coconut, grapeseed, olive, and sunflower seed oils plus panthenol, all of which help replenish dehydrated skin, while the oat extract provides itch relief.
Bevel Razor + Shave Cream Bundle, $85.45
Bevel calls this bundle the grooming starter pack, and honestly, this set lives up to its reputation.
It comes with a sturdy, double-edge razor (and 20 replacement blades) that helps keep the ingrown and patchy stubbles at bay; the Bevel Shave Cream offers a nourishing, soothing, and fortifying shave thanks to aloe and vitamin E; and the Pre-Shave Oil preps your skin to prevent any nicks and tugs.
It also comes with a Post Shave Balm that soothes the skin while battling inflammation and promoting healing. It makes for the perfect men's gift for your dad, partner, son, or birthday self-treat!
Mantl Invisible Daily SPF 30, $24.30
Convinced you'll never find an SPF you love? This one is for you. Designed specifically with balding and bald men in mind, this lightweight sunscreen is the perfect daily shield from the harmful effects of sunlight and blue light on your skin.
It also contains hydrating ingredients, which lather your skin moisture and safeguard it from environmental stressors. Talk about the perfect serum-SPF combo.
And did I mention it gives you a matte finish? No grease, no streak, no problem.
Aaron Wallace 3-Step Haircare System, $39
News flash: a healthy mane starts with scalpcare, and this formula offers that and more.
Composed of a Hydrating Hair & Beard Shampoo, plus Conditioner and Moisturizer infused with mango butter and black seed oil, this haircare set gently cleanses, detangles, hydrates, and helps minimize hair breakage.
The signature amber and bergamot-infused scent (which is so inviting you might skip cologne) is the icing on the cake.
Fredrick Benjamin Complete Shaving Regimen, $36
Netizens recommend this grooming products set if you want to halt beard itch and embrace botanicals for their ultra-hydration and skin-soothing benefits.
It consists of an Easy Priming Skin & Beard Oil that provides a bump-free shaving experience, a Hydro Glaze Cooling Shave Gel that contains healing and moisturizing aloe vera, and a dermatologist-approved Post-Shave Bump Clear Treatment that uses witch hazel and sunflower seed oil to soften and hydrate dry, sensitive skin.
Ceylon Skincare Set, $80
If you've been struggling with acne, hyperpigmentation, or oily skin, this grooming products set is for you. Consisting of a gentle tea tree cleanser, witch hazel toner, and hyaluronic acid-infused moisturizer, this kit from Ceylon takes the stress out of creating a solid skincare routine.
The cleanser uses aloe vera's natural soothing and anti-inflammatory properties to reduce sebum production and blast blemishes. The coix seed and witch hazel toner help fight all forms of acne-causing bacteria.
The moisturizer uses hyaluronic acid to boost moisture retention, AHAs (lactic and glycolic acid) to improve overall skin texture, and niacinamide to control oil production, enhance skin clarity, and reduce the appearance of dark spots, hyperpigmentation, and signs of aging.
Chris Collins Renaissance Man, $175
After one whiff of this Chris Collins pick, you'll become addicted. Inspired by a time of renewed creativity in Manhattan, the fragrance combines bergamot and marine accords, honey heart notes, and Tonka Bean base notes to give you an energetic, emotional scent.
Rock it on your vacay, date night with your partner, or investor meeting for that confidence boost.
These Are the Coolest And Badass Black Men Beard Styles Ever!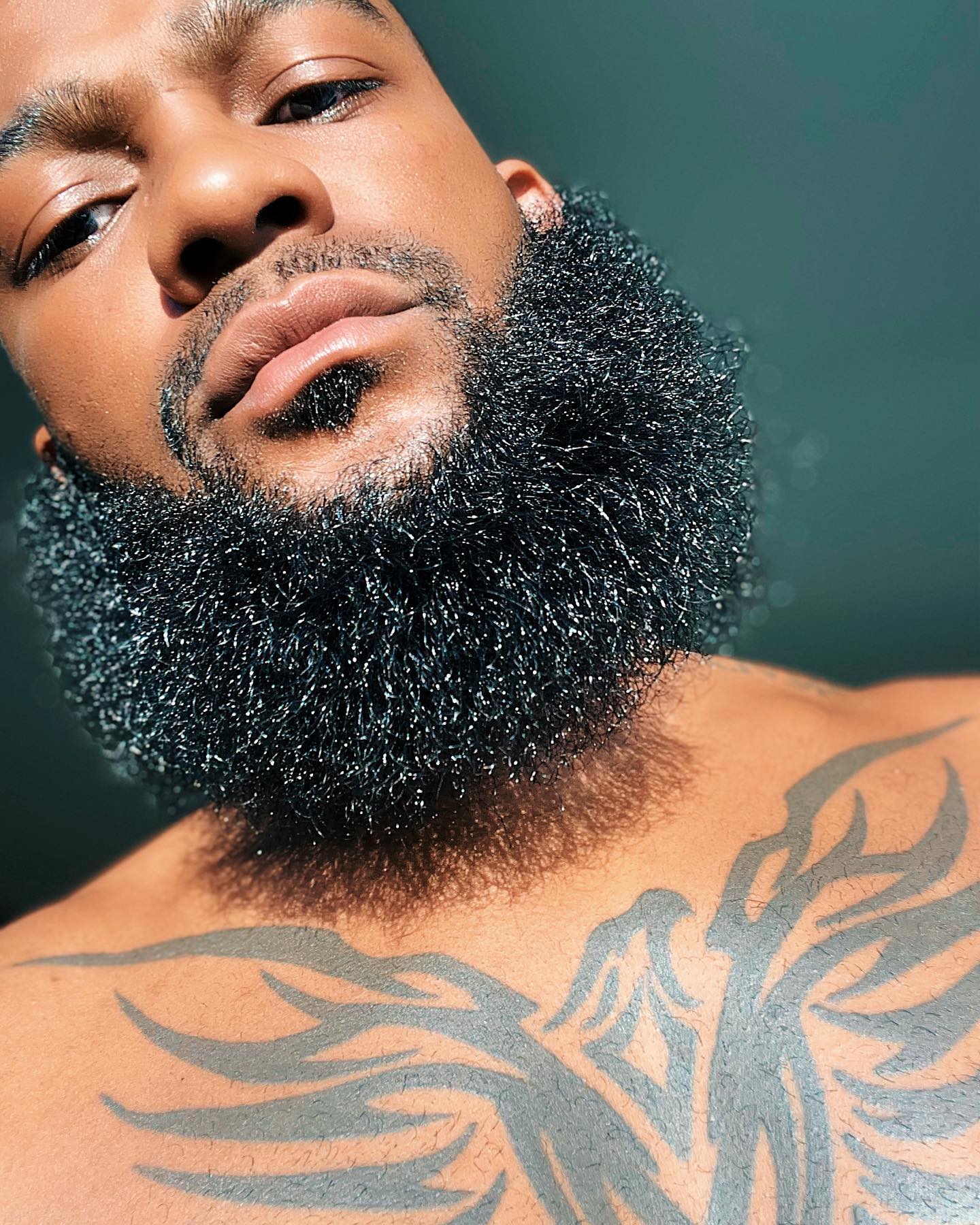 Beards are back! They have for a while now – and let's just say, these new-age beard styles look drop-dead cool and sexy asf, obvi.
Now, if you're not sure which beard style goes with your personality, fashion sense, and facial features, below are some of the most popular, 21st and even 19th Century (if you're into the scruffy, medieval-style) Black men's beard styles to help you make up your mind.
Let's get started.
The Full Beard
Drumrolls, please….
To kick off, our Black men beard styles list is the classic, sophisticated, simple-to-execute, full beard. As one of the oldest beard styles for black men, this look perfectly fits modern men of all colors, caste, or creeds.
It features a fully covered face starting from the sides and paired with thin and well-trimmed mustaches. If you're going for the business-y, mature, classic man look, this style is for you.
The Short Beard
If you're trying to beat the heat while maintaining a cool summer look, a short beard will suit you perfectly. For most Black men, this style presents a seamless way to try something new while maintaining that relaxed, rugged-y, masculine feel.
Also, those who can effortlessly grow a uniform beard style look exquisite with a short beard looks if it's patchy, a goatee, or accompanied by a mustache.
And since your facial features will be defined, it's vital to hit up your barber to discuss which parts will be longer and shorter. You don't want to DIY it and look like you were in a scuffle with your trimmers.
The Chin Beard
Not up for something too defined or complicated? Try the chin beard. Famously rocked by celebs like Michael Ealy and Jamie Foxx, this style combines a thick goatee with a shorter, barely shaved mustache to give you a laidback look.
And to maintain its authenticity, one just needs to shave off the sideburns and any stubble on your cheek. Doing so helps keep the focus on the beard and center of your face. It's the perfect Black men's beard style for people with diamond or triangle face shapes.
The Chin Curtain
This easy-to-execute but classic Black men's beard style helps frame your entire jaw, starting from your sideburns, to give you that 'I mean business' look. It's a fantastic choice if you're also trying to portray an image of a strong jawline.
The Circle Beard
A circle beard is a thin mustache connected to a mini goatee, forming a circle. It's the perfect pick for anyone going for the clean, neat, and business-y look.
The Stubble
Chilling between the clean-shaven and short beard, stubbles are one of the most practical yet stylishly rugged beard styles ever! Depending on your hair growth, a classic stubble takes anywhere from seven days to a couple of weeks to grow.
The Goatee
This is one of the most enduringly popular beard styles for Black men everywhere. That's because it's one of the easiest and quickest beard styles to grow, plus it suits every face shape.
In particular, though, individuals with a round shape will appreciate it more since it seamlessly defines the chin and draws attention to the center of your face. It also suits those whose beard grows patchy, as you can shave most facial hair off.
What's more…
The goatee gives off a chic and tasteful vibe, so you can rock it with your tuxedo or a T-shirt and jeans.
The Edgy Soul Patch
This is another Black men's favorite beard style. It's cool, classic, and erudite and adds that extra oomph to your whole ensemble, especially if rocked without a mustache. Plus, it's one of those looks women go gaga about, so… why not try it?
The Sculpted Beard
There's nothing like a perfectly carved beard to show that you take your grooming seriously. It's not only a red carpet-worthy look, but it shows off your impeccable razor skills. It is obviously high maintenance (you need to shave off your cheek and neck area), so be ready for daily trimmings.
The Anchor Beard
Don't underestimate how powerful this beard style is. It highlights your macho features and adds a touch of tremendous exquisiteness.
The look features a defined goatee paired with a mustache to create the shape of an anchor, which is where it gets its name. It's also known as the Johnny Depp or the Tony Stark (the Marvel character played by Robert Downey Jr.)
Maintaining the look is relatively simple –you just have to trim each section to keep the anchor shape intact regularly.
The Classic Five O'Clock
The five o'clock or the five o'clock shadow is another classic Black men's beard look. It gets its name from the attenuated growth of hair that appears in the afternoon since shaving in the morning.
In reality, this look takes time and mad skills to achieve. If you're clean-shaven, you'll require two to three days to grow your beard to the desired length, then use an electric shaver to trim it down.
And as effortless as it looks, this classic style requires you to cleanly shave the cheek and neck area daily. Ensure the line is graduated rather than sharp to keep that effortless, laid-back going.
The Biker Beard
Yes, the biker beard, characterized by a long, thick beard, this style just gives off that ultra-masculine vibe. It's dramatic and involves shaping your mane, so it's extra long at the chin while keeping the sides straight.
Also, growing a biker beard takes time, so regular trims are a must, and so is using some beard-loving products like serums and oils. For Black men, avoiding lanolin-infused products is best since they tend to clog the pores. Instead, go for serums and oil loaded with argan, coconut, jojoba, and tea tree oils to keep your beard looking all healthy and sexy.
The Bushy Beard
If you love taking a stroll on the wild side, the bushy beard style is for you. It's one of those bold looks that can be easily adapted to suit any man. Since it hides the lower part of your face, a thicker beard can be trimmed to balance your facial features or reveal a stronger jawline.
You can also go the Donald Glover way and leave it looking long, scraggly, and manly!
The Man A Bald Man Beard
If you struggle with alopecia and other balding issues, this style is for you. It's bold, stylish, and makes for a sexy, striking contrast to the bare head.
It's a fan favorite among Black men, and many people even shave off their hair to rock it! So, if you zhuzh up your style or just have a fresh start, this should be your go-to.
Mutton Chops
Want to rock a vintage beard style? Try one of the best, most classic beard styles – the mutton chop. Of course, this isn't for the faint of heart, but when done well, it is a stare grabber.
To rock it, shave your chin and mustache, allowing the hair to grow densely from your sideburns to the cheek and down to your jaws. You can also give it a contemporary vibe by wearing a square beard, which looks stylish, defined, and bold.
The Garibaldi
Named after the 19th Century Italian General Giuseppe Garibaldi, this is a bold beard style. It is characterized by six to eight inches of bushy hair with a rounded shape.
With time, this look has been modernized, and today, many Black men, like NBA star James Harden, rock it in a ducktail fashion – which involves shaping the bottom into a slightly pointy shape.
Bring the Barber Experience Home With These 8 Professional Hair Trimmers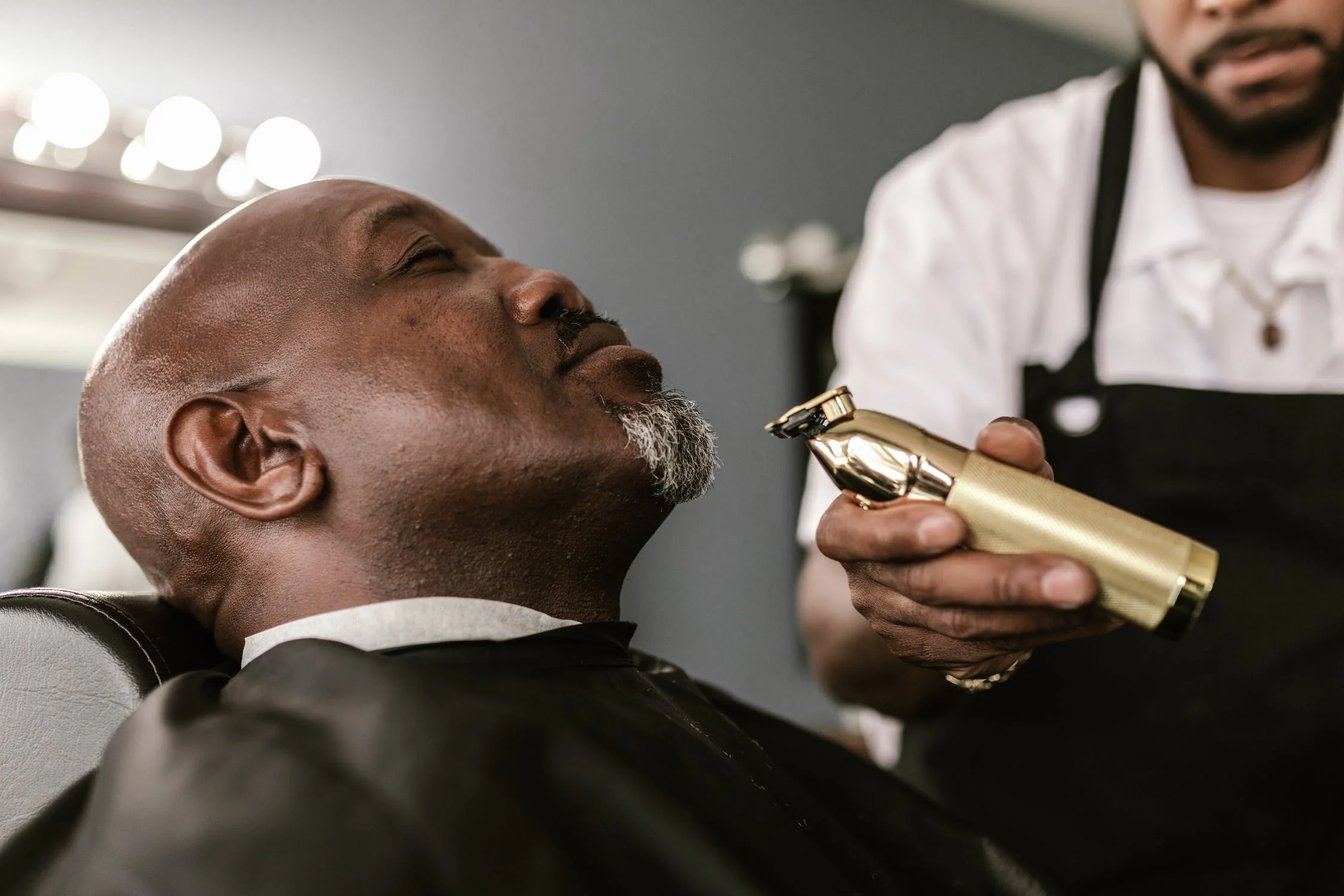 There are many reasons to hit up your local barbershop – you need a quick beard trim, are thinking of embracing the Gen Z haircut, or just need The Ice Cube: Barbershop (safe space) experience. But there are also those times when you just need to go all DIY on your hair and beard.
It's these times that call for heavy-duty hair trimmers that can help you keep up with your grooming routine. If you don't know where to start, keep reading to learn about some of the market's best.
Bevel Beard Trimmers, $196
Simply put, Bevel offers some of the best beard products on the market – and these hair trimmers are proof. Whether you're looking to shape your beard, detail your mustache, or edge out your sideburns, the T-blade attachment gives you precise lines.
What's more, the blade is designed to repel dirt and buildup, which equals less irritation.
The rechargeable cordless battery offers you up to 8hrs of service (though it works while being charged), and its non-slip grip makes it easy to handle.
Top Tip: Use it with a beard comb for a quick boys-night-out pick-me-up.
Panasonic Electric Travel Shaver, $20
Sporting a short beard that needs a quick, precise trim? Look no further. The Panasonic Travel Shaver comes with a hypoallergenic stainless steel single blade that gives you an extra-clean, non-irritating trim.
It also operates on wet and dry hair and has a super-efficient but ultra-quiet motor that prevents overheating (so you don't keep shutting it off).
You'll have to keep two AA batteries close, but that just means no charging. It is the perfect option for regular touch-ups and on-the-go grooming needs. The price is just an added bonus.
Phillips Headgroom Do-It-Yourself Hair Clipper, $20
I'm not going to lie to you – DIY shaving can be somewhat of a nightmare, but you make it seamless with the Phillips Headgroom hair clipper.
Designed with a unique 180° rotating head, this hair and facial trimmer offers total control, so you don't have to break dance when trying to reach those tricky spots.
It also provides you with 60-minutes of runtime, meaning you can give yourself a perfectly even trim without worrying about it dying on you.
Meridian: The Trimmer, $74
Kiss painful nicks and razor burns goodbye with this safely spaced below-the-belt hair trimmer. Designed with A-class ceramic blades, this shaver helps trim your hair without cutting, tugging, or irritating your skin.
It also comes with an extra-sensitive shaving technology of 6000 strokes per minute plus an anti-nicks shaving guard, so you can achieve that seamless trim you've always dreamed of.
Need a quick, uninterrupted shower trim? No problem. The trimmer is shock-and waterproof, housed in a cordless rechargeable shell to enhance comfort and maneuverability.
Remington MB4040 Beard & Moustache Trimmer,$38
Trim your stubble – and much more – with this pick from Remington. Its self-sharpening, titanium-coated blades let you groom your entire body, giving you precise, sharp results. It also comes with three beard and stubble guard combs so you can play with your look.
Plus, with the lithium-ion battery locked and loaded, you can rest easy knowing it won't die on you – it gives you 120 minutes of runtime. It also works as a perfect facial and nasal hair trimmer.
Wahl Corded Clipper Color Pro Complete Hair Cutting Kit, $35
Wahl's sleek hair trimmers offer effortless control for shaving, lineups, and haircuts. They come with a 26-piece grooming kit for various cutting lengths, making adjusting trim length pain-free.
Their robust construction delivers a smooth clip, trim or shave every time. So, if longevity is what you're looking for, this kit will be with you for a long time if you treat it right!
Phillips Norelco MG7750/49 Multigroom Series 7000 Hair Clippers, $34.99
The MacGyver of hair trimmers, this buzzer is excellent at everything. From your head to beard and body, the multi-talented tool offers you a professional trim on all your overgrown spots with 23 ultra-powerful attachments and pieces.
Equipped with a sleek steel drive train, sharp blades, and unbendable cutting guards, this body trimmer might even help you mow your lawn in a pinch.
MANSCAPED The Lawn Mower 4.0, $84.99
For heavy-duty shaved, there's no better option than ManScaped's 4.0 Lawn Mower which comes with SkinSafeTM replaceable ceramic blades for whatever kind of trim you want.
The surface is non-slip and 100% waterproof, meaning you can add it to your shower routine. It also comes with a 7,000-RPM motor with QuietStrokeTM technology for the ultimate groin and body trim and an extended 600mA li-ion battery for 90 minutes of use. What more could one want?
There you have it – happy trimming, folks!