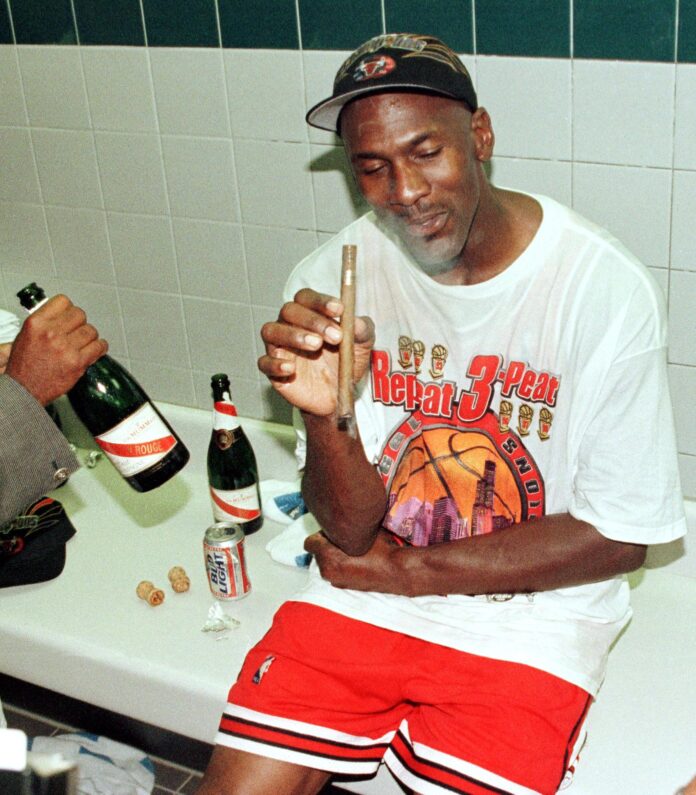 Most people know that Michael Jordan rarely gives interviews and according to GQ he stopped talking to the press around 1994 and a few misses during interviews or inflammatory sports stories. He did, however, give an interview to Cigar Aficionado where he spoke about his six-smokes-a-day habit.
Marvin Shanken the editor in chief of CF recently described to GQ how he got that interview back in 2005.
Read below:
I had indirect access to him through a friend, who plays golf with him. He helped arrange it. Obviously, Michael loves cigars, and knew of me, and read the magazine, and so forth. He was in Chicago. I flew out one day and we played golf.
How was that?
The rumor is that he likes to play for a lot of money. He wants to play for more money than you can afford to lose. He thinks he has an edge that way. So he started off—I don't remember the number, but he wanted to play for so much a hole that I said, "You're out of your mind! I'm not gonna play for that." So we chiseled it down to an amount that he agreed but was more than I wanted to gamble. It was me and my friend versus Michael and my executive editor at the time, Gordon Mott. Coming down to the 18th hole, I think we were down $400. It was a push—we didn't lose any money. But that showed me the competitiveness that he had. I play with him occasionally in Florida, and he's a very laid-back, fun guy to be with and to play with. He doesn't know who he is when he's on the course having a good time.
There's no fans, there's no cameras—it's a relatively private moment. Yeah. And he loves his golf, and he loves his cigars. I love golf, I love cigars. It worked fine.
The NBA legend smoked a cigar before every home game, puffing away to deal with the Chicago traffic. "I started smoking a cigar going to the games. In 1993. It became a ritual for every home game," he said in an exclusive 2005 interview with Cigar Aficionado editor and publisher Marvin R. Shanken, his first with the magazine.
"I started out with the Hoyo de Monterrey Double Corona. … I never rushed. … It became such a relaxing thing to do. Not many people know about it. When they read this, they'll know that each and every day for a home game, I smoked a cigar. I wanted that feeling of success, and relaxation. It's the most relaxing thing," added Jordan.
Read the entire interview here. Also do not forget to read our latest post here.