Colin Kaepernick: Unpatriotic Villian or Philanthropic Hero?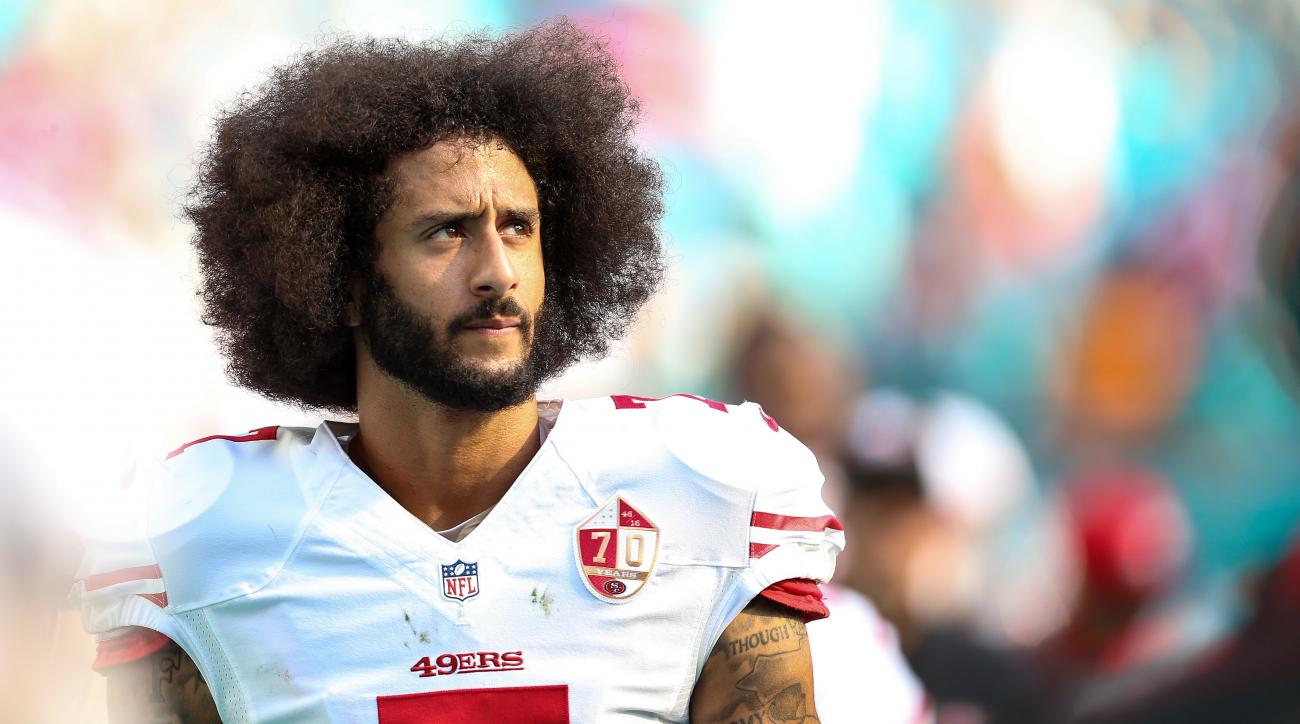 With all things considered Colin Kaepernick had a very good run with the San Francisco 49ers. Last season his performance was not that of the vintage Kaepernick when he advanced the team to Super Bowl XLVII in New Orleans against the Baltimore Ravens but Kap still has more than enough in the tank to do it again.
When we jump to the 2017 season and several days after the start of the NFL's free agency and Colin Kaepernick is still unsigned.
Now there are two schools of thought on this, one Kaepernick is simply a bad or underperforming quarterback and as we know, bad quarterbacks do not get a whole lot of love by the powers that be in the NFL or by the fans for that matter.
Or secondly, Kaepernick is being blackballed as a result of the national (negative) attention that he received when he began to protest the United States National Anthem during the 2016 football season.
To complicate things further last night President Donald Trump gloated about Kaps unemployment during a rally in Louisville Kentucky; seemingly taking credit for it.
He made note that many of the NFL owners do not want to pick up Kaepernick because they do not want the President to send out a "nasty Tweet" about it. Therefore they are avoiding any political backlash by not signing him.
In our opinion, if the President had time to send out a nasty tweet directed at a team or an individual football player then his stock just went up, #Nordstroms; but we digress!
At the end of the day, Kaepernick not getting signed is not surprising because we are inclined to believe that his 'controversial antics" are the main cause and that he himself probably prepared for any negativity it would have brought to his career.
Sometimes we like to say "There is no money in defending black folk",  and that it's simply not beneficial to do so, in fact for some, it can be career ending.
Meanwhile, free agent quarterback Colin Kaepernick makes good use of his time off the field by helping others. Last year he pledged to donate $1 million to different organizations of his choice and not only that but the proceeds of his jersey sales from the 2016 season.
Most recently in 2017, he has been instrumental in helping to get an airplane "Turkish Airlines" to aid Somalia with food and water. That was a big win for him and his partners and a huge win for the people of Somalia.
Sometimes life can take you to places where you never planned to go and if being philanthropic and helping others in need is what he wants to do I say God Bless and bring on the nasty tweets!
Congratulations! Jason Wright Named Washington Football Team President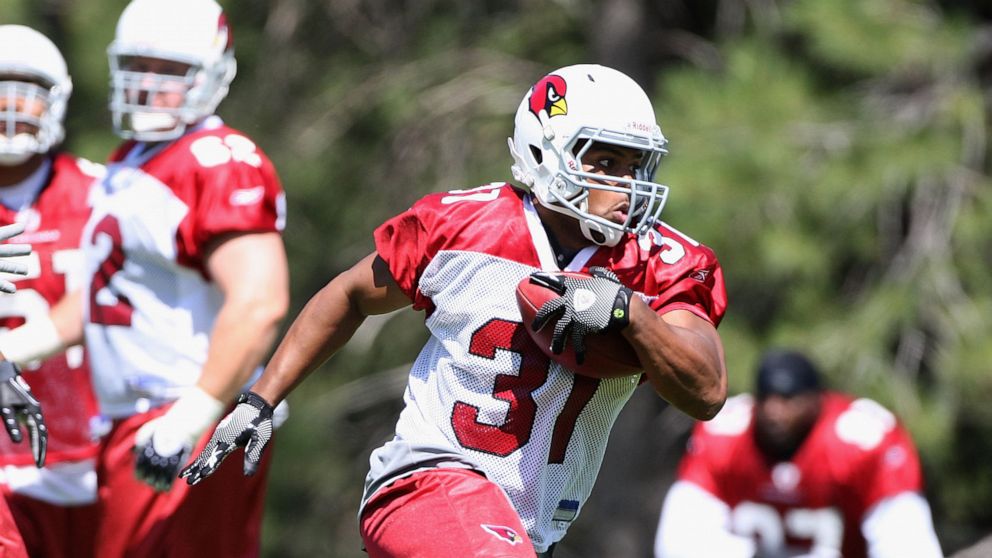 Jason Wright has just been named Washington Football team President and he is the first black team President in NFL history and one of the youngest. Washington Football team was formally called the Washington Redskins and this move is just part of their overall transition into a new team.
According to the New York Post:
Wright replaces Bruce Allen, who was fired after the 2019 season.
"This team, at this time, is an ideal opportunity for me," Wright said in a statement. "The transformation of the Washington Football Team is happening across all aspects of the organization — from football to operations to branding to culture — and will make us a truly modern and aspirational franchise. We want to set new standards for the NFL."
The 38-year-old Wright played seven seasons in the NFL as an undrafted running back for the 49ers, Falcons, Browns, and Cardinals. He retired after the 2011 season and earned his MBA from the University of Chicago.
He was most recently a partner in the operations practice at McKinsey & Company, where he also helped create the Black Economic Institute and co-piloted their anti-racism and inclusion strategy.
Washington Football Team appointed Jason Wright as team president in a historic hire. Wright will be responsible for leading the organization's business divisions, including operations, finance, sales, and marketing. Wright now becomes the first black president of an NFL team. pic.twitter.com/Qoti1iBKAk

— Adam Schefter (@AdamSchefter) August 17, 2020
Wright will be responsible for leading Washington's business divisions, including operations, finance, sales, and marketing. It comes at a pivotal time, as the franchise has done away with its old team name and is trying to recover from a Washington Post report that accused the team of sexual harassment and creating a toxic culture.
"If I could custom design a leader for this important time in our history, it would be Jason. His experience as a former player, coupled with his business acumen, gives him a perspective that is unrivaled in the league," team owner Dan Snyder said in a statement. "We will not rest until we are a championship-caliber team, on and off the field."
While most on Twitter are applauding the move, some question the intentions of the NFL alluding it to be just a political move on their part. However, Jason Wright is very qualified to hold the position political or not.
This Twitter user posted his accolades in his defense:
Washington Football Team appointed Jason Wright as team president in a historic hire. Wright will be responsible for leading the organization's business divisions, including operations, finance, sales, and marketing. Wright now becomes the first black president of an NFL team. pic.twitter.com/Qoti1iBKAk

— Adam Schefter (@AdamSchefter) August 17, 2020
If anyone can succeed in that job, it's Jason. He's impressive in EVERY way.

— Steve F (@LenPinthGarnell) August 17, 2020
Huge respect and congrats to Jason Wright, first Black team president in the NFL's history. He's getting grilled with tough questions on ESPN and answering them all tremendously. pic.twitter.com/xUqzpHVp2w

— BD (@BrandonDavisBD) August 17, 2020
Agree. I'll even attempt to answer the question. Jason Wright is an outstanding guy. Smart as hell – scored off the charts on MCAT as his original plan was to go to medical school. Has an MBA from University of Chicago.

— Steve F (@LenPinthGarnell) August 17, 2020
And he's on ESPN. Looks like us, sounds like us, and he's for us! Man. Shoutout to Jason Wright! This is a beautiful day!!!

— Sean Wright (@SeanWright82) August 17, 2020
Jason spoke to Michael Strahan about his new role, watch below:
Congratulations! We look forward to seeing what Jason does with the team.
Mikey Williams Considering An HBCU Could Really Shake Things Up In College Basketball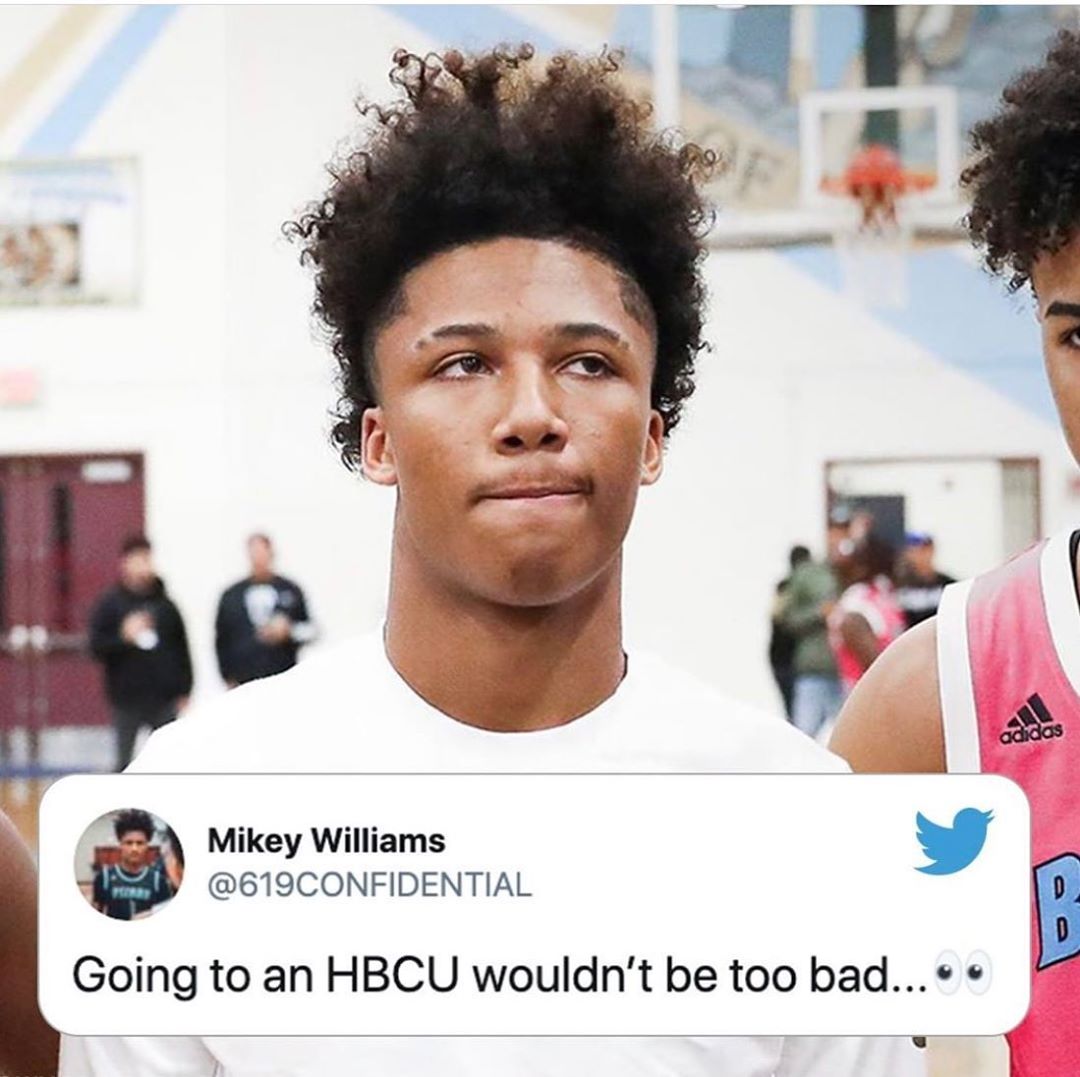 The money goes where the players are so it isn't a stretch that when the nation's best 15-year-old basketball player Mikey Williams tweeted that going to an HBCU wouldn't be too bad, he sent twitter into a frenzy.
Going to an HBCU wouldn't be too bad…?

— Mikey Williams (@619CONFIDENTIAL) June 2, 2020
In a recent post, Yahoo Sports described the history HBCUs which gives great context around why this move by Mikey Williams would be historic. Read an excerpt below:
Before the desegregation of college sports in the South, it once was common for top black athletes to attend predominantly black colleges. HBCUs produced many of the nation's best-known athletes, from Tennessee State's Wilma Rudolph, to Florida A&M's Bob Hayes, to Grambling State's Willis Reed, to Winston-Salem State's Earl "the Pearl" Monroe.
By the end of the civil rights movement, even the most stubborn Deep South coaches knew they needed to integrate to remain competitive.
Majority-white institutions began siphoning away much of the South's top black talent, positioning those schools to cash in when college sports evolved into a big-dollar business and pushing HBCUs further and further behind.
Consider Grambling State, home of maybe the most storied HBCU football program. In 2013 players staged a boycott and forfeited a game in protest of the school's crumbling facilities, long bus trips to road games and frequent coaching changes.
Or take Mississippi Valley State, which often can't afford to play a single non-league basketball game at home. To aid their cash-strapped athletic department, the Delta Devils crisscross the country playing nothing but road games and collecting tens of thousands of dollars in appearance fees from each opponent.
The disparity in resources is only part of the reason why most blue-chip recruits don't consider picking North Carolina A&T over North Carolina or Florida A&M over Florida. Power-conference programs can typically also offer bigger crowds, stronger competition, more proven coaching and a better chance to win.
Whereas HBCU coaches once resisted wasting time and money recruiting against high-major programs with deeper pockets, that has recently begun to change. HBCU coaches recognize an opportunity with the Black Lives Matter movement inspiring black teens to show more pride in their culture and strengthen their communities.
Last October, two of the nation's top high school players took official visits to Howard University on back-to-back weekends. The visits were a jolt of positive publicity for Howard even though Makur Maker has moved on to other schools and Josh Christopher has chosen Arizona State.
"Howard was seriously considered," said Laron Christopher, Josh's father. "The courage it took Josh to take the visit was powerful to me because it said that he was different. He was standing for something bigger than basketball."
Because their recruiting budgets are so meager, HBCU coaches try to be selective about which Rivals 150 prospects they pursue.
The primary factor is whether a coach already has a strong relationship with someone close to the player. Coaches may also look for elite prospects who have a parent who attended an HBCU or who appear unusually comfortable taking a different path than their peers.
There are two schools of thought for how an HBCU can win a recruiting battle against prestigious power-conference programs.
The first is exemplified by a tweet sent earlier this week by Mo Williams, a 14-year NBA veteran and newly hired Alabama State coach. He portrayed choosing an HBCU over a predominantly white institution as a way of strengthening the black community and protesting racial inequality.
Recently Mo Williams Tweeted an idea for a silent protest which asked parents to pull kids out of D1 Schools and enroll them in HBCUs.
Silent protest, pull your kids out of these D1 schools and enroll them in a HBCU. We talking about change. Don't talk about it, be about it. I'm at Alabama State and can do exactly what they can and more for your son. Point blank period…. #changethegame

— Mo Williams (@mowilliams) June 2, 2020
Mikey Williams made the point to say that named brand college programs are not the only stepping stones to the NBA. "If you're a pro, [then] you're a pro no matter what college you go to," Williams wrote Wednesday in an Instagram post elaborating on his interest in HBCUs.
What makes going to an HBCU appealing to Williams is that the revenue he generates during his college career would stay within the black community. He says multiple HBCUs will make the cut next time he narrows the list of colleges he is considering.
"And," he adds, "they won't just be there for show."
"I AM RIDING FOR MY PEOPLE!" Williams wrote. "I'M 10 TOES BEHIND THE BLACK COMMUNITY! Any way I can help or make a change in the black community, best believe I am going to do that."
Interest from the nation's top-ranked rising sophomore came as a welcome surprise to HBCU coaches across the country. Within minutes, coaches who previously viewed Williams as unattainable suddenly began bombarding his AAU coach with calls and texts.
Tennessee State offered Williams a scholarship on Tuesday without seeing him play in person. Norfolk State and Texas Southern did the same. By Wednesday afternoon, the dynamic 6-foot-2 guard had piled up offers from about a dozen HBCU programs.
View this post on Instagram
"I don't think any schools thought seriously about offering him until he posted that tweet," Etop Udo-Uma, the coach of the talent-rich Compton Magic AAU team, told Yahoo Sports. "Within two hours he had more HBCU offers than any kid I've ever coached."
While a talent like Mikey Williams would instantly elevate whatever college he chooses, some HBCU coaches insist they would be happy if he picks any of their schools. They're hoping to find a trailblazer whose bold choice to come to an HBCU could inspire other elite prospects to buck conventional wisdom and do the same.
For decades, predominantly white institutions have raked in revenue in part because of the achievements of black athletes. Someone like Williams could demonstrate that black athletes can generate money and exposure for HBCUs without sacrificing their pursuit of a pro career to do it.
On Wednesday Williams wrote:
"Why does it always have to be the big names?" Williams wrote Wednesday on Instagram. "Have you ever thought about helping your own people out?? WE ARE THE REASON THAT THESE SCHOOLS HAVE SUCH BIG NAMES AND SUCH GOOD HISTORY..But in the end what do we get out of it??"
As the offers roll in Mikey will have a decision to make either way we are proud of him!
Read our last post here and read more via Yahoo! Sports.
Did You Know Michael Jordan Used To Smoke A Cigar Before Every Home Game?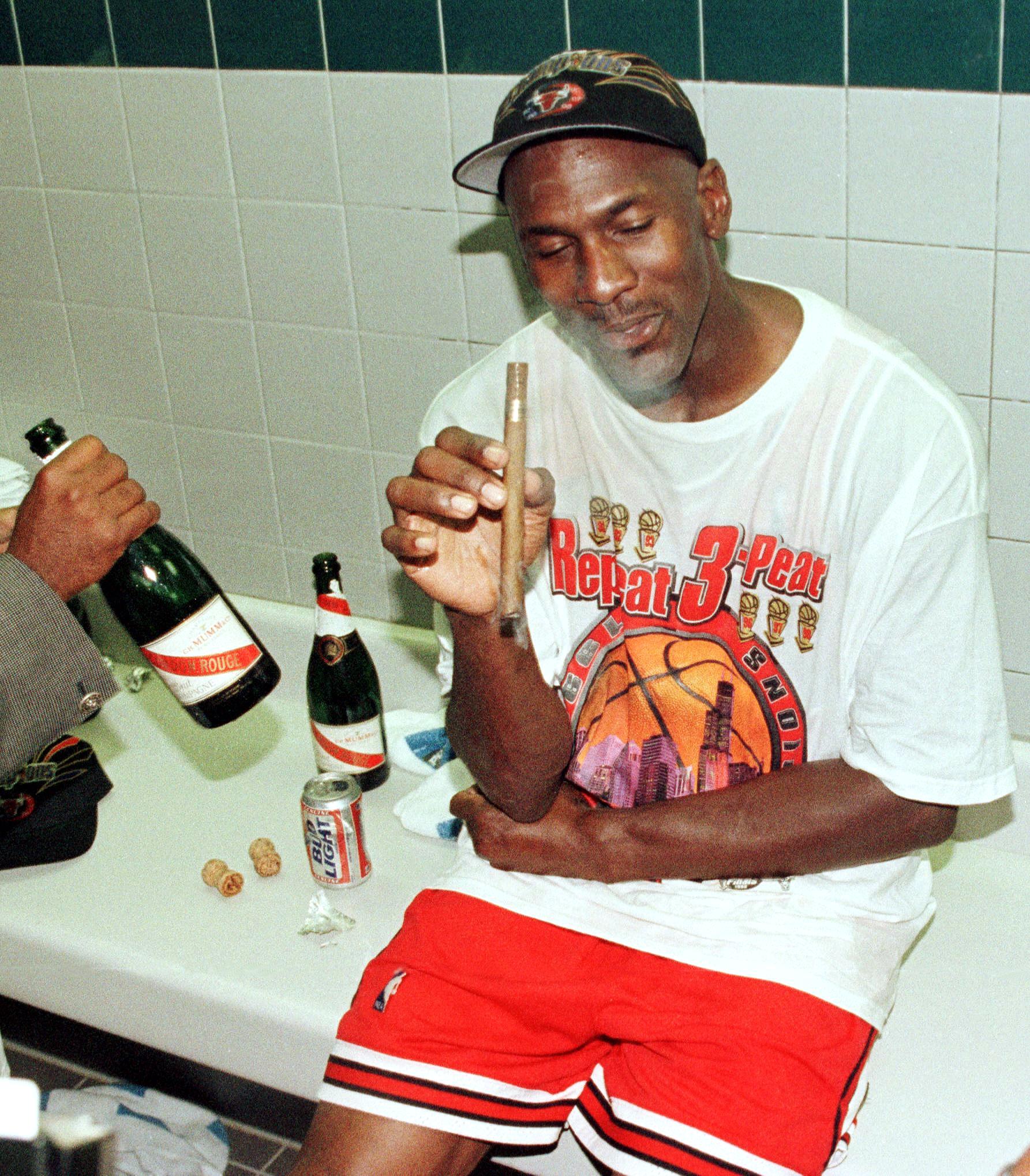 Most people know that Michael Jordan rarely gives interviews and according to GQ he stopped talking to the press around 1994 and a few misses during interviews or inflammatory sports stories. He did, however, give an interview to Cigar Aficionado where he spoke about his six-smokes-a-day habit.
Marvin Shanken the editor in chief of CF recently described to GQ how he got that interview back in 2005.
Read below:
I had indirect access to him through a friend, who plays golf with him. He helped arrange it. Obviously, Michael loves cigars, and knew of me, and read the magazine, and so forth. He was in Chicago. I flew out one day and we played golf.
How was that?
The rumor is that he likes to play for a lot of money. He wants to play for more money than you can afford to lose. He thinks he has an edge that way. So he started off—I don't remember the number, but he wanted to play for so much a hole that I said, "You're out of your mind! I'm not gonna play for that." So we chiseled it down to an amount that he agreed but was more than I wanted to gamble. It was me and my friend versus Michael and my executive editor at the time, Gordon Mott. Coming down to the 18th hole, I think we were down $400. It was a push—we didn't lose any money. But that showed me the competitiveness that he had. I play with him occasionally in Florida, and he's a very laid-back, fun guy to be with and to play with. He doesn't know who he is when he's on the course having a good time.
There's no fans, there's no cameras—it's a relatively private moment. Yeah. And he loves his golf, and he loves his cigars. I love golf, I love cigars. It worked fine.
The NBA legend smoked a cigar before every home game, puffing away to deal with the Chicago traffic. "I started smoking a cigar going to the games. In 1993. It became a ritual for every home game," he said in an exclusive 2005 interview with Cigar Aficionado editor and publisher Marvin R. Shanken, his first with the magazine.
"I started out with the Hoyo de Monterrey Double Corona. … I never rushed. … It became such a relaxing thing to do. Not many people know about it. When they read this, they'll know that each and every day for a home game, I smoked a cigar. I wanted that feeling of success, and relaxation. It's the most relaxing thing," added Jordan.
Read the entire interview here. Also do not forget to read our latest post here.